Home Is Where The Heart Is: Providing Comfort To Children In Crisis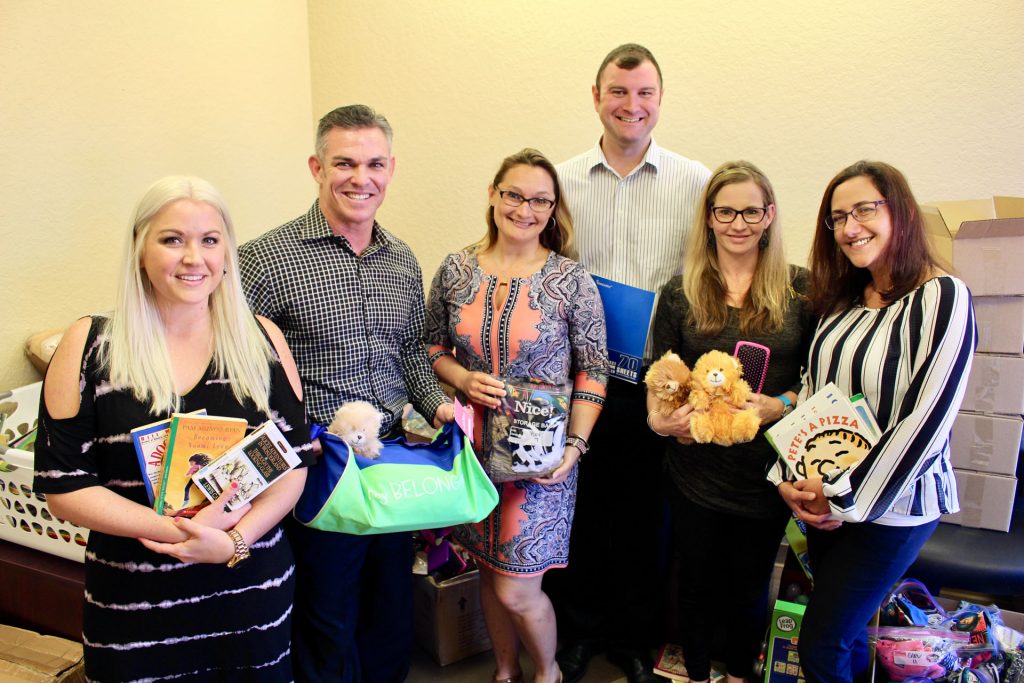 FOR IMMEDIATE RELEASE
LAKE MARY, FLORIDA – There are 400,000 children in the United States foster care system and 125,000 new kids entering each year without anything but the clothes on their backs. Kalli Britton felt this need firsthand when she herself became a foster parent in 2012. "As foster parents, our children arrived with nothing," says Britton. "We would have fun making late night runs, loading the kids up with what they might need immediately. However, we quickly learned this was not how things usually happened". When the case managers would visit their foster children, Britton and her husband began to donate hand-me-downs and other items to be distributed to foster children in need, realizing the need was great and the resources were few.
When Britton first started researching the issue, she found many organizations providing resources to foster children, but none of the charities were set-up to be extended from community to community. She resolved to create a new, successful model that could be sustained in multiple locations with minimal oversight: my BELONGings. My BELONGings was established as a non-profit organization in December 2015, and the charity provides gender and age specific duffel bags to children entering the foster care system. These bags contain essential items such as toothbrushes, underwear, socks, hairbrushes; they also have comfort items: a teddy bear, book, or stuffed animal.  Simple items, such as a stuffed animal, can bring immeasurable comfort to a child in crisis.
Staff from Certified Mortgage Planners collaborated on their second Duffel Drive on Wednesday, November 15th. For Vice President Jason Purcell, the charity holds a special place in his heart. "The thought of children being removed from their unfit or unsafe homes is bad enough, but to leave barely clothed and with only a few belongings – for the lucky ones –  in a garbage bag, tugs at my heart and brings tears to my eyes," says Purcell. "I realized the significance of my BELONGings as soon as I packed my first duffel bag for an 8-year old little boy".
Although my BELONGings has its start here in Florida, the system can be successfully duplicated anywhere in the country. "I intentionally designed my BELONGings so that anyone who wanted to help children in crisis in their own community could actually do so with great ease without having to spend the time to obtain their own 501©3," says Britton. "We set up a foster agency donation contact, send the duffels, tags, and content lists all for free. We just need hands and hearts to put the duffels together and deliver them to their local foster placement agency."
---
ABOUT CERTIFIED MORTGAGE PLANNERS
Certified Mortgage Planners is a mortgage lender in central Florida focused on helping clients build a strong financial position through careful management of equity, the proper use of capital, and a dedication to maximizing the rate of return. Certified Mortgage Planners is a family business with an aspiration to be servant leaders both from within the company, as well as out in the community.
FOR MORE INFORMATION
To make a contribution to the my BELONGings fund in partnership with Certified Mortgage Planners, visit the GoFundMe page here: https://www.gofundme.com/mybelongings2. For more information on how to get involved with my BELONGings or to organize your own Duffel Drive, visit mybelongings.org or contact Kalli Britton at info@mybelongings.org.